Regular price
Sale price
$16.50 USD
Unit price
per
Sale
Sold out
☔ This no-prep language pack has a little bit of everything you may need for a elementary speech therapy caseload. Students will love the fun theme and you will love the no-prep! Designed for pk-5th depending on skill level. These worksheets would also make great homework! Now includes a google slides version, great for distance learning, teletherapy, or a no print option !
 Assembly: None! Just print and go! You will need something to color with! Let me do the planning for you this spring!!
 ★This is available in 2 bundles: One with my Dab A Sound Spring Articulation pack  AND one in my seasonal NO PREP Language bundle. To see those bundles, scroll down to the right of this listing. 
 This download is JAM packed with language activities. There are 81 total content pages! There are 6 BONUS activities too! You can use my BONUS drill sheets for articulation or fluency!

 What's Included:
✩ Table of Contents ✩ Butterfly Categories (finding items in a category)\ ✩ Spring Butterflies (naming items in a category) ✩ Which One Doesn't Belong ✩ Spring Stories (listening comprehension, wh-questions) ✩ Rain Boot Associations ✩ Spring Vocabulary Bingo (BONUS full color version included) ✩ Compare/Contrast Snails ✩ Rainy Day Social Skills (good friend vs. not a good friend behavior) ✩ Spring Feelings ✩ Rain Boot Sentences (subject-verb agreement) ✩ Strawberry Synonym Search ✩ Rainbow Antonyms ✩ Color by Multiple Meanings ✩ Sunny Adjectives ✩ Spring Word Work ✩ Spring Story Retell or Recap ✩ Rhyming Eggs ✩ Sentence Clouds (sentence absurdities) ✩ Spring Listen Up (1&2 step directions, and make your own) ✩ -ing Verbs ✩ Regular/Irregular Past Tense Verbs ✩ Regular/Irregular Plurals ✩ Positional Vocabulary ✩ Color A Lady Bug Open Ended Game ✩ Color A Lady Chick Open Ended Game ✩ How to Draw a Simple Flower ✩ BONUS Drill sheets (color and b&w) ❀ Listen Up! A spring themed following directions activity ❀
Great for k-2nd
Please note: Some of the target vocabulary is similar in my other No Prep Language packs, however I did change the way they are presented in each pack so your student will get unique worksheets but the vocabulary will be familiar to them. Some of the grammar pages have the same pictures due to the limited amount of clipart available. If you have any questions please email me before you buy!
***This is a digital download, you are responsible for printing the product to use.  This purchase is a ONE user license, sharing this file in any way is not permitted. Please respect copyright laws. Exception: You may share a page with your student's caregiver for home practice. 

Please note: This file will be delivered in a zipped compressed file (it contains 4 files for the different versions described above and building cards). 

To unzip on a Mac:
Double click the zipped file.
The file will automatically be decompressed by Archive Utility into the same folder the compressed file is in.
Access the extracted files by clicking the appropriate icons.
You can drag them into a file on your computer or add them to your Google Drive or Dropbox.
To unzip on a PC:
Double-click the zip file you want to unzip OR right-click to select Extract All, and then follow the instructions.
The zip file will open a folder, showing you the individual files inside.
Select all the files and drag them out of the folder to another location on your computer.
Returns

DIGITAL DOWNLOAD- NO RETURNS OFFERED (by purchasing this item you are agreeing to this policy)

Physical Product: Refunds are accepted if item arrives damaged or not as described.
Share
View full details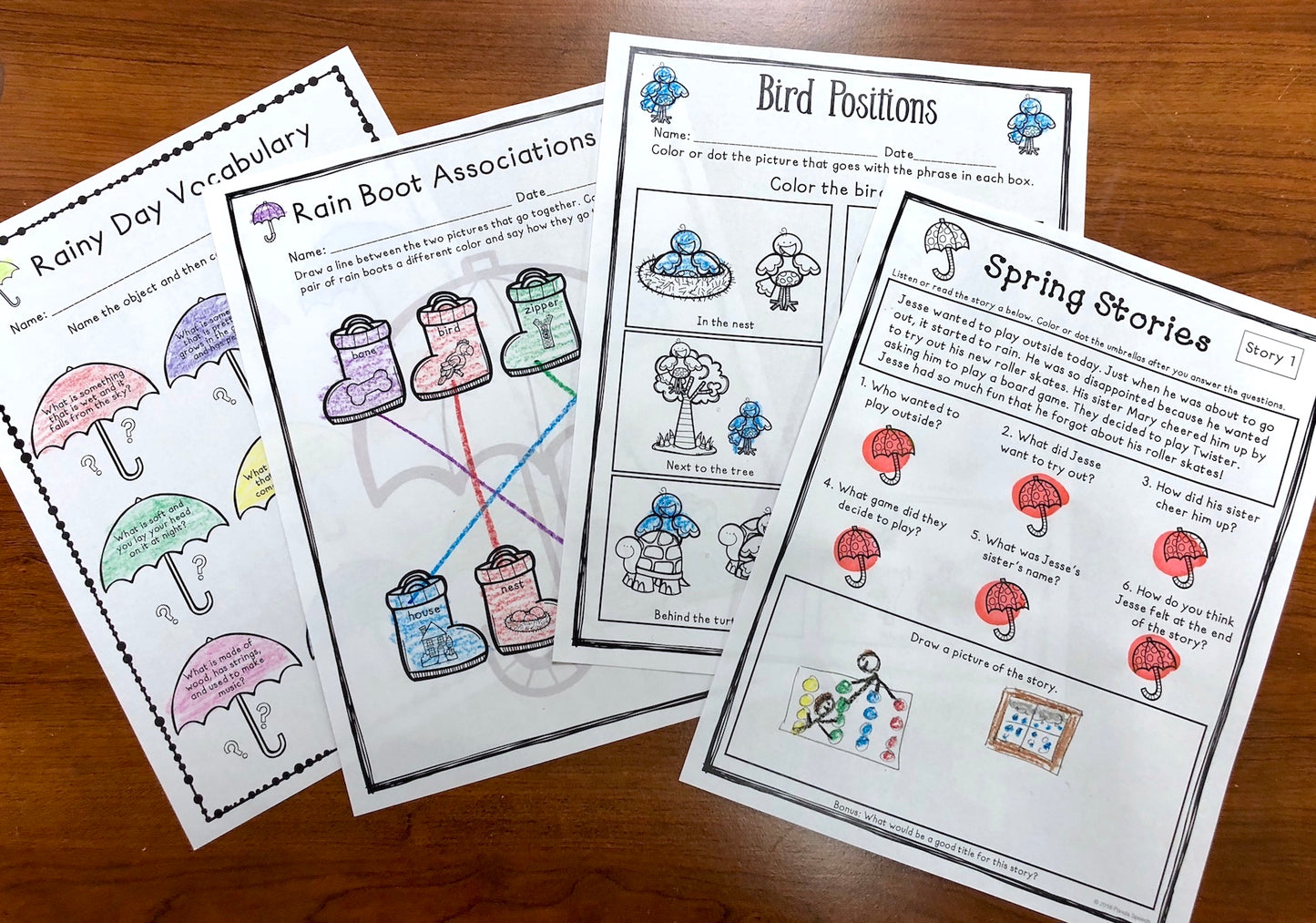 Instant Download Instructions

After you purchase is complete, you will receive and link to download if your purchase is or contains a digital product. You will also receive an email confirmation (be sure to check your spam or junk folder if you do not see it).

Return Policy

By purchasing this product, you understand that due to the digital nature, no refunds will be provided. Please ask questions BEFORE you purchase (mandi@pandaspeechtherapy.com)

If your physical product arrives damaged or you received the wrong item, you must contact us with in 48 hours of purchase to discuss options.

Terms of Use

By purchasing or downloading anything on this site, you are agreeing to the following terms:

Paid Product:

 This is a single user license ONLY. DO NOT share, copy, email, save to a shared drive, or redistribute this file in any way. If you wish to share with a colleague, please purchase an additional license or direct them to my store. For bulk orders email: mandi@pandaspeechtherapy.com

Free Product:

 Single user download ONLY! Please direct others to my store if you want to share! 

*You may not copy any part of this document (content, layout, format, idea, design) and reproduce it or create a similar product using my idea. All rights reserved to Panda Speech, LLC. This original activity was imagined and created by Amanda Schaumburg, all rights reserved. PLEASE RESPECT COPYRIGHT LAWS!!

**If you are a therapist or educator, you may share a printed copy of a page to your client's caregiver for home practice (this is the only sharing permitted).