Regular price
Sale price
$5.00 USD
Unit price
per
Sale
Sold out
I created these quick easy worksheets for my older articulation students who also have language and vocabulary goals. I also use them for general carry over skills for students to practice their articulation targets in academic language tasks. 
Even if the language tasks are too easy for the students or not challenging, they will still benefit from the articulation carry over. Each language task contains the target phoneme multiple times. 

This activity was designed to be used directly with the student, as it requires written and verbal responses. You could also pair older student together and have them practice completing the tasks together. 

This resource contains the following phonemes: initial/medial/final: l, s, z, sh, ch, j, th, prevocalic r, er, ar, or, ear, air, ire, rblends, sblends, lblends. 35 pages

Features: 

Each page contains six articulation words that will be used throughout the page. Many of the tasks also contain more words with the target as well.

 

Vocabulary and language tasks included: Defining/describing, antonyms, compare/contrast, sentence formation, subject-verb agreement, figurative language, multiple meaning words, and a bonus sound alliteration sentence challenge.
It is recommended to use this resource with students who can read because some of the practice comes with reading questions/answers with the sound in it. 

You could also use these in mixed groups (articulation and language). 

Tip: If using these in groups, have the students color the pictures with colored pencils in between turns. 

***This is a digital download, you are responsible for printing the product to use.  This purchase is a ONE user license, sharing this file in any way is not permitted. Please respect copyright laws. Exception: You may share a page with your student's caregiver for home practice. 

Returns

DIGITAL DOWNLOAD- NO RETURNS OFFERED (by purchasing this item you are agreeing to this policy)

Physical Product: Refunds are accepted if item arrives damaged or not as described.
Share
View full details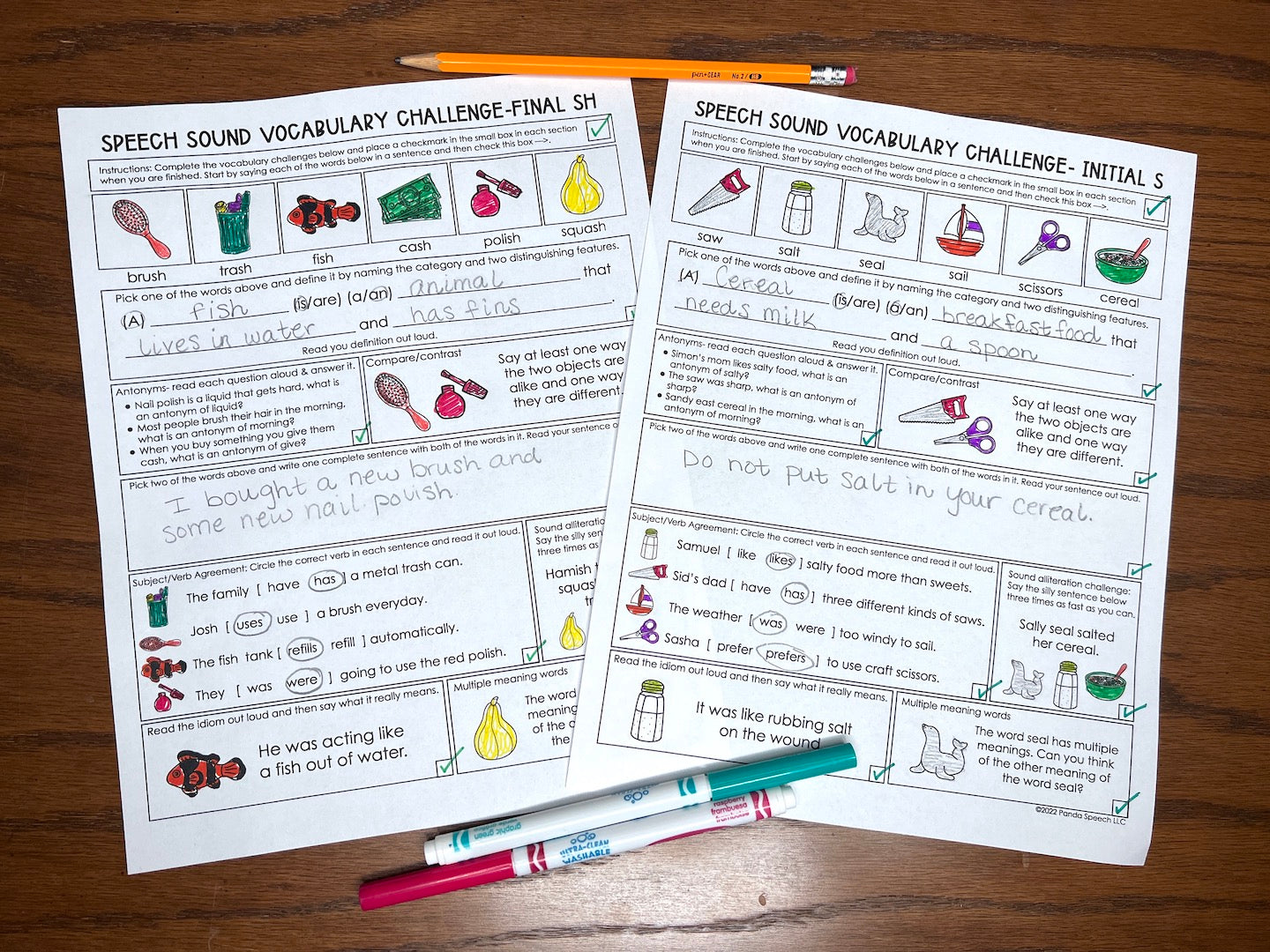 Instant Download Instructions

After you purchase is complete, you will receive and link to download if your purchase is or contains a digital product. You will also receive an email confirmation (be sure to check your spam or junk folder if you do not see it).

Return Policy

By purchasing this product, you understand that due to the digital nature, no refunds will be provided. Please ask questions BEFORE you purchase (mandi@pandaspeechtherapy.com)

If your physical product arrives damaged or you received the wrong item, you must contact us with in 48 hours of purchase to discuss options.

Terms of Use

By purchasing or downloading anything on this site, you are agreeing to the following terms:

Paid Product:

 This is a single user license ONLY. DO NOT share, copy, email, save to a shared drive, or redistribute this file in any way. If you wish to share with a colleague, please purchase an additional license or direct them to my store. For bulk orders email: mandi@pandaspeechtherapy.com

Free Product:

 Single user download ONLY! Please direct others to my store if you want to share! 

*You may not copy any part of this document (content, layout, format, idea, design) and reproduce it or create a similar product using my idea. All rights reserved to Panda Speech, LLC. This original activity was imagined and created by Amanda Schaumburg, all rights reserved. PLEASE RESPECT COPYRIGHT LAWS!!

**If you are a therapist or educator, you may share a printed copy of a page to your client's caregiver for home practice (this is the only sharing permitted).