Regular price
Sale price
$8.50 USD
Unit price
per
Sale
Sold out
My original Listen Up Freebies have had over 825,000 downloads. I get request for these so often, that I decided to offer a premium package. This package comes with current 8 freebies in one download,  1 bonus freebie, 3 sets only offered in my no prep bundles, and 8 ALL NEW sets (not availalbe anywhere else).  You will get 20 following directions sets in an instant download after purchase. PLUS anyone who purchases this offer just might get a bonus Listen Up freebie exclusive in the future (wink wink). Let's do the math: That is 100 pages for only $5  ($40 value). 
These worksheets are great for listen skills, following directions, listening for details, carry over practice for articulation and language, describing, positional concepts, and so much more.  Each set includes:

One step directions level one  (no color specification). 
One step directions level two (specifies color). 
Two step directions level one (no color specification). 
Two step directions level two (specifies color)
Open ended or make your own directions. 
The therapist/teacher will read prompts listed on the right side of the paper to the student(s). The student will color the picture according to the directions. No-prep and low ink! 

Variations: Use the open-ended page and have the students give each other directions. Tip: Cut of the directions if you don't want them to cue the student.

8 TPT Freebies included (all available to download now without this purchase). 

-Seasonal Listen Ups  (Winter, Spring, Summer, Fall)
-Holiday Listen Ups (New premium sets: Halloween, Thanksgiving )
-Camping Listen Up
-Classroom Listen Up
(I have received hundreds of requests to put these all in one download, don't worry these will be free forever). 
-Freebies included but not available on TPT

-Christmas Morning Listen Up (a new premium set only  available through my email sign up)
Sets included in my No Prep Language Packs that are not available separately:

-Pirate Listen Up
-Valentines Listen Up
-Baseball Listen Up
NEW Premium Sets included:

-Under the Sea Listen Up
-Zoo Listen UP
-Circus LIsten Up
-Snowy Day Listen Up
-Pumpkin Patch Listen Up
-Spring Day Listen Up
-Pets Listen Up
-Space Listen UP
What is the difference between regular and premium? Premium sets have an updated look and graphics. They are more cohesive (the regular sets are still great though too). 

Please direct any quesitons BEFORE you purchase. mandi@pandaspeechtherapy.com

***This is a digital download, you are responsible for printing the product to use.  This purchase is a ONE user license, sharing this file in any way is not permitted. Please respect copyright laws. Exception: You may share a page with your student's caregiver for home practice. 

Returns

DIGITAL DOWNLOAD- NO RETURNS OFFERED (by purchasing this item you are agreeing to this policy)

Physical Product: Refunds are accepted if item arrives damaged or not as described.
Share
View full details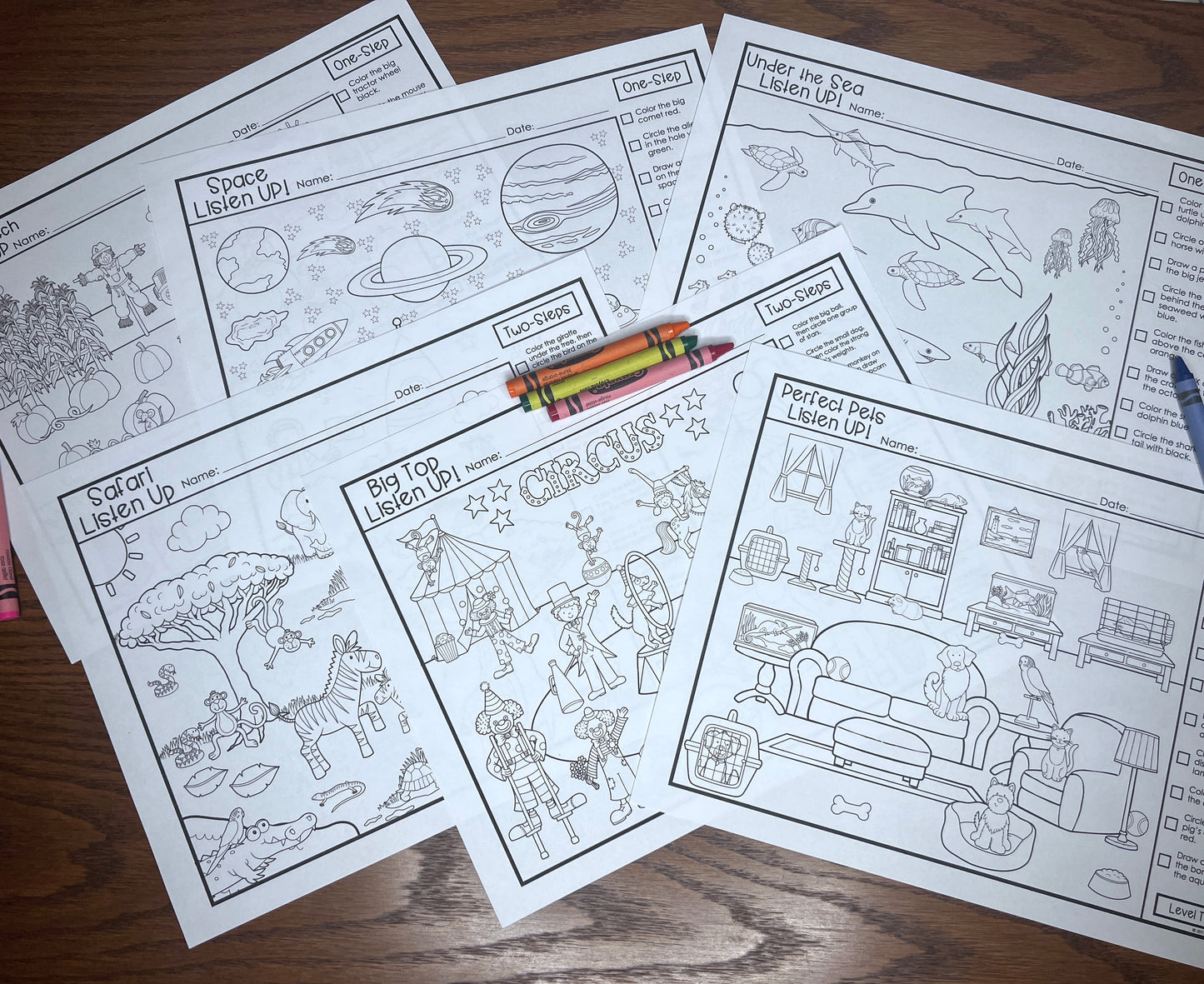 Instant Download Instructions

After you purchase is complete, you will receive and link to download if your purchase is or contains a digital product. You will also receive an email confirmation (be sure to check your spam or junk folder if you do not see it).

Return Policy

By purchasing this product, you understand that due to the digital nature, no refunds will be provided. Please ask questions BEFORE you purchase (mandi@pandaspeechtherapy.com)

If your physical product arrives damaged or you received the wrong item, you must contact us with in 48 hours of purchase to discuss options.

Terms of Use

By purchasing or downloading anything on this site, you are agreeing to the following terms:

Paid Product:

 This is a single user license ONLY. DO NOT share, copy, email, save to a shared drive, or redistribute this file in any way. If you wish to share with a colleague, please purchase an additional license or direct them to my store. For bulk orders email: mandi@pandaspeechtherapy.com

Free Product:

 Single user download ONLY! Please direct others to my store if you want to share! 

*You may not copy any part of this document (content, layout, format, idea, design) and reproduce it or create a similar product using my idea. All rights reserved to Panda Speech, LLC. This original activity was imagined and created by Amanda Schaumburg, all rights reserved. PLEASE RESPECT COPYRIGHT LAWS!!

**If you are a therapist or educator, you may share a printed copy of a page to your client's caregiver for home practice (this is the only sharing permitted).