Regular price
Sale price
$4.00 USD
Unit price
per
Sale
Sold out
Seasonal Clothing? An Adaptive and Interactive Book About Clothing
Winter or Summer? or Hot or Cold? Two books with different vocabulary options! You choose the book you need (or use both!)
This download includes two adaptive and interactive books! I made two of them because some of my students are not at the same vocabulary level. One books uses winter/summer vocabulary (I wear mittens in the winter) and one uses hot/cold vocabulary (I wear mittens when it's cold). You choose which book to assemble based on your students' needs.
These books are great for: functional vocabulary, increasing MLU (mean length of utterance), matching skills, expressive/receptive language skills following directions, and listening skills. They were designed to be simple and functional without a lot of distracting images or text. I hope you find them useful! I love using them in speech therapy sessions! These would also be great for pk/k, special education, or ESL! Many children will recognize the functional vocabulary in these books and get excited to use the symbols and pieces!

Assembly Required: Please note: No physical product is included. You will need to print the book page, laminate, and assemble pieces with velcro. Make sure you understand this BEFORE purchasing. Assembly instructions included in then file. 
How I use this book: I point to the large picture on the page and see if they can identify it (I use the prompts: "what is this" or "this is a ____"). I lay out a choice of 3 images (you can use more or less depending on ability) and have them find the matching picture and place it in the blank square on the page. Next I ask them "when do you wear _________?" " in the summer or winter?" (while holding up or pointing to the symbols). The student will then place the correct symbol in the blank square. After that I have them repeat the sentences on the page while pointing to the symbols. "I wear mittens in the winter" If the student is limited-verbal, I have them point to the symbols while I verbalize the sentence for a model or have then tell you with their AAC device (again, providing a model when needed). For some of my students I will break it up into two phrases "I wear mittens" "in the winter."
I also have 5 of my functional vocabulary matching books in a bundle for a discount! Scroll down to the right to see the bundle. The bundle also includes a digital BOOM Card version
***This is a digital download, you are responsible for printing the product to use.  This purchase is a ONE user license, sharing this file in any way is not permitted. Please respect copyright laws.

Returns

DIGITAL DOWNLOAD- NO RETURNS OFFERED (by purchasing this item you are agreeing to this policy)

Physical Product: Refunds are accepted if item arrives damaged or not as described.
Share
View full details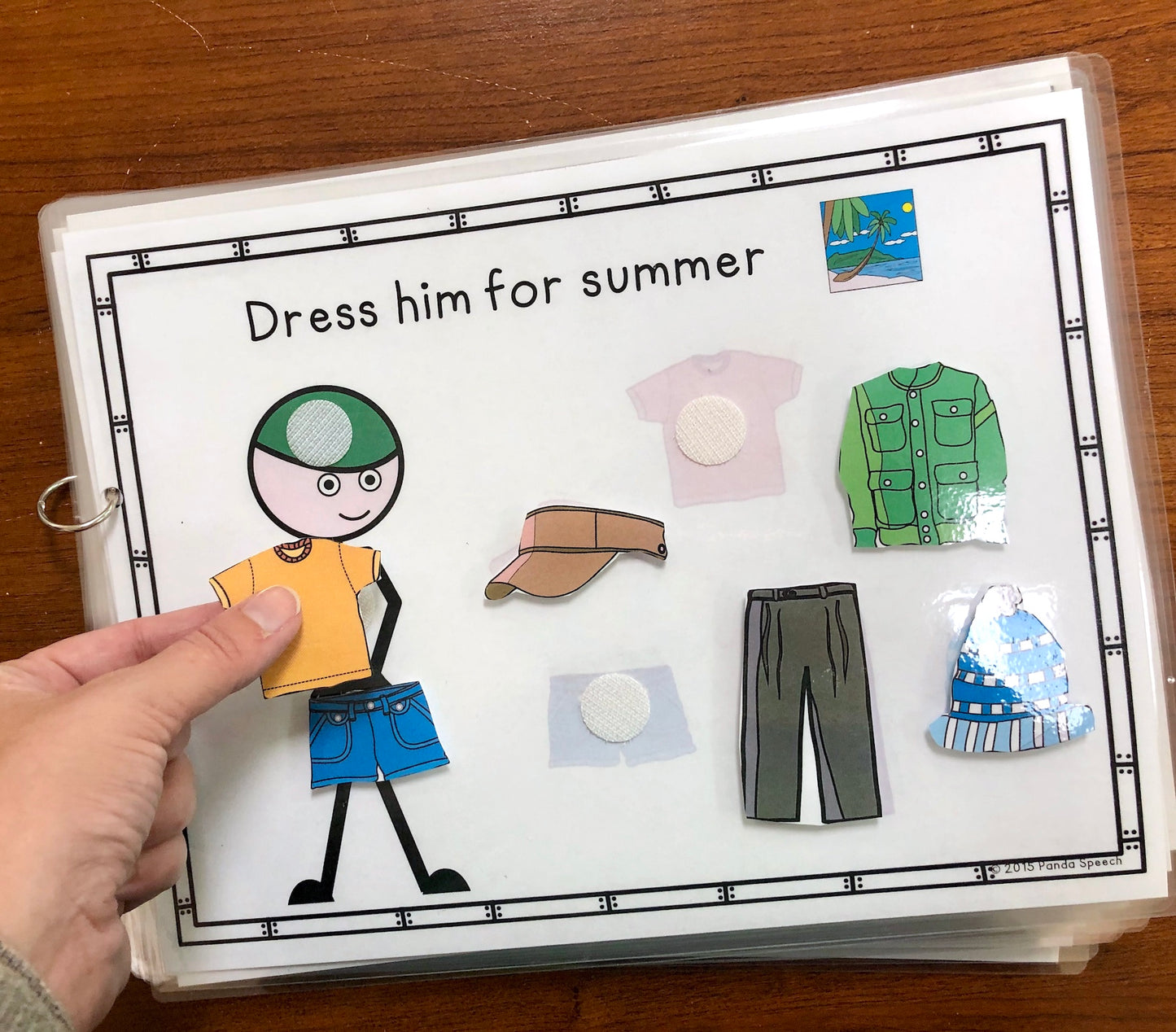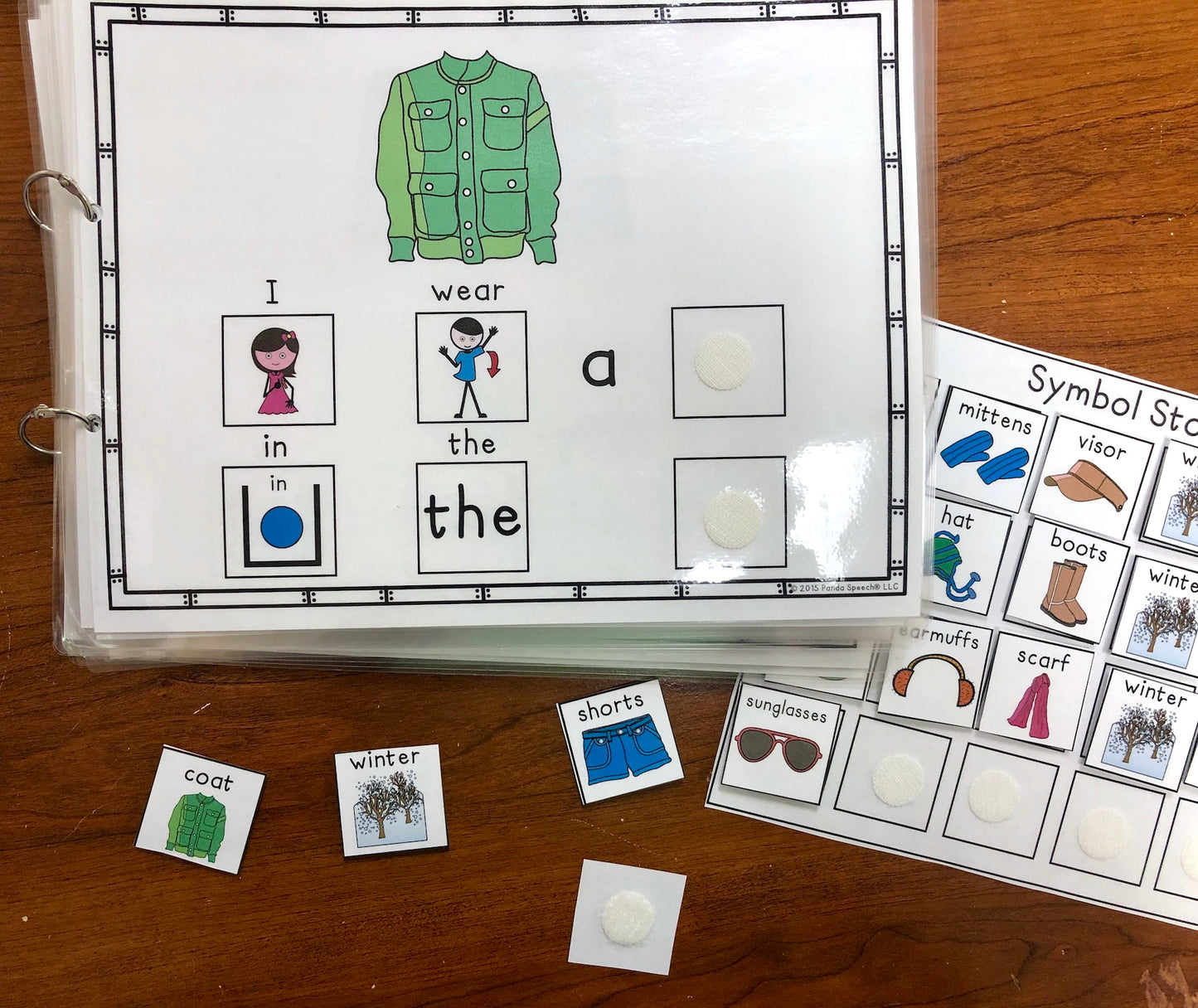 Instant Download Instructions

After you purchase is complete, you will receive and link to download if your purchase is or contains a digital product. You will also receive an email confirmation (be sure to check your spam or junk folder if you do not see it).

Return Policy

By purchasing this product, you understand that due to the digital nature, no refunds will be provided. Please ask questions BEFORE you purchase (mandi@pandaspeechtherapy.com)

If your physical product arrives damaged or you received the wrong item, you must contact us with in 48 hours of purchase to discuss options.

Terms of Use

By purchasing or downloading anything on this site, you are agreeing to the following terms:

Paid Product:

 This is a single user license ONLY. DO NOT share, copy, email, save to a shared drive, or redistribute this file in any way. If you wish to share with a colleague, please purchase an additional license or direct them to my store. For bulk orders email: mandi@pandaspeechtherapy.com

Free Product:

 Single user download ONLY! Please direct others to my store if you want to share! 

*You may not copy any part of this document (content, layout, format, idea, design) and reproduce it or create a similar product using my idea. All rights reserved to Panda Speech, LLC. This original activity was imagined and created by Amanda Schaumburg, all rights reserved. PLEASE RESPECT COPYRIGHT LAWS!!

**If you are a therapist or educator, you may share a printed copy of a page to your client's caregiver for home practice (this is the only sharing permitted).