Regular price
Sale price
$8.50 USD
Unit price
per
Sale
Sold out
A fun game for articulation therapy! Your students with LOVE this! This pack is a value because it comes with sounds in all positions, blends, and vocalic r patterns. It also comes with a black and white version (print and go)! Early and Later Sounds. A Play Dough Companion! (Can be used with out play dough) NOW includes a Google Slides version with moveable pieces for a digital option (great for distance learning, teletherapy, or a no print option)
 Ewww! Flies have landed all over the food! Swat them off with good articulation!
Sounds Included: Initial/final p, b, t, d; mixed final consonants; mixed initial/final bilabials; initial: h, w, y; final ng; initial/medial final: k, g, f, v, l, s, z, sh, ch, j, th (voiced and unvoiced); initial/final mixed k/g; initial/medial lblends, initial/final sblends (separate mats for initial sp, st, sm, sn, sk, sl, sw); pre-vocalic r; vocalic r (er, ar, or, air, ear, ire, mixed); rl; initial/medial rblends
Don't miss the Early Sounds pack too (get it in the Artic Swat Bundle, keep scrolling down to the right to see the bundle). 
 Low Prep Activity or No Prep Activity 
 • What's Included:
→ Mats for the sounds listed above
→ 4 Fly Swatters (or use a real one!)
→ Black and White version for coloring or daubing! (an NO-PREP/LOW-INK option) These are great to send as homework!
→ 1 BONUS No-Prep Coloring Activity
→ Color Google Slides version with moveable pieces
 • Assembly:
Color Version: Print out the mats you need (by phoneme) & laminate or place them in a sheet protector.
Black and White Version: Print out the pages you need (by phoneme).
Fly Swatters: Print out on card stock (if possible) and laminate. I printed mine on paper and mounted them on card stock (with glue) and they are sturdy!
 • How to use.
The students will swat the flies off of the food as they practice each target word. I have my students practice each word 5-10X (for 75-150 total trials per mat). The students will practice each word as they squish play dough on top of each fly (to simulate a squished fly ewww!).
Black and White Copy: The student will practice each word and color in the fly (they could also scribble black all over the fly to simulate a squished fly eww!!). You could also used daubers!!
You can also use magnetic bingo chips and a magnetic wand with these pages.
 Other Tips:
Practice the mat in therapy and send home the black and white copy as homework!
Use a real fly swatter for a more realistic experience! ha ha!
Please note: This file will be delivered in a zipped compressed file (it contains 4 files for the different versions described above and building cards). 

To unzip on a Mac:
Double click the zipped file.
The file will automatically be decompressed by Archive Utility into the same folder the compressed file is in.
Access the extracted files by clicking the appropriate icons.
You can drag them into a file on your computer or add them to your Google Drive or Dropbox.
To unzip on a PC:
Double-click the zip file you want to unzip OR right-click to select Extract All, and then follow the instructions.
The zip file will open a folder, showing you the individual files inside.
Select all the files and drag them out of the folder to another location on your computer.
***This is a digital download, you are responsible for printing the product to use.  This purchase is a ONE user license, sharing this file in any way is not permitted. Please respect copyright laws. Exception: You may share a page with your student's caregiver for home practice. 

Returns

DIGITAL DOWNLOAD- NO RETURNS OFFERED (by purchasing this item you are agreeing to this policy)

Physical Product: Refunds are accepted if item arrives damaged or not as described.
Share
View full details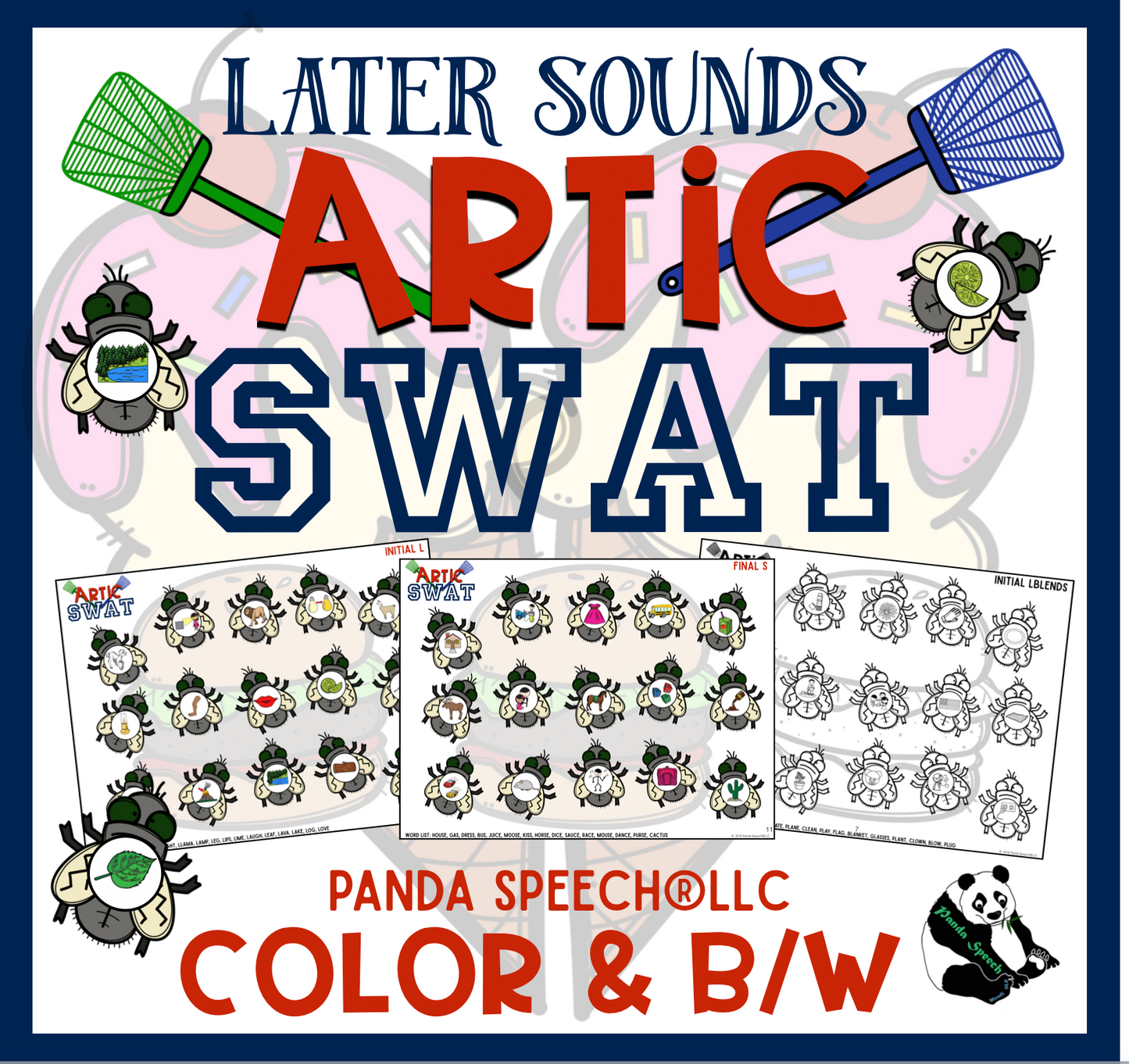 Instant Download Instructions

After you purchase is complete, you will receive and link to download if your purchase is or contains a digital product. You will also receive an email confirmation (be sure to check your spam or junk folder if you do not see it).

Return Policy

By purchasing this product, you understand that due to the digital nature, no refunds will be provided. Please ask questions BEFORE you purchase (mandi@pandaspeechtherapy.com)

If your physical product arrives damaged or you received the wrong item, you must contact us with in 48 hours of purchase to discuss options.

Terms of Use

By purchasing or downloading anything on this site, you are agreeing to the following terms:

Paid Product:

 This is a single user license ONLY. DO NOT share, copy, email, save to a shared drive, or redistribute this file in any way. If you wish to share with a colleague, please purchase an additional license or direct them to my store. For bulk orders email: mandi@pandaspeechtherapy.com

Free Product:

 Single user download ONLY! Please direct others to my store if you want to share! 

*You may not copy any part of this document (content, layout, format, idea, design) and reproduce it or create a similar product using my idea. All rights reserved to Panda Speech, LLC. This original activity was imagined and created by Amanda Schaumburg, all rights reserved. PLEASE RESPECT COPYRIGHT LAWS!!

**If you are a therapist or educator, you may share a printed copy of a page to your client's caregiver for home practice (this is the only sharing permitted).